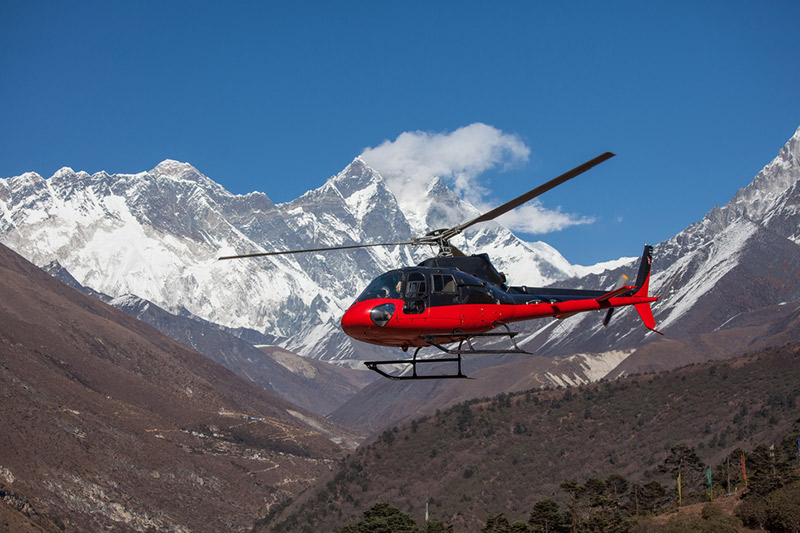 If you are excited to do an
Everest Helicopter Tour
, you just can't get away from Vehicles Rental Nepal Pvt. Ltd. It is one of the leading companies in Nepal providing a safer, cheaper and exciting tour to the Highest mountain in the world. In the tour, you will have the pleasure of seeing the peak of the Everest, landing at the Everest Base Camp and a tour back to Kathmandu. Vehicle Rental Nepal Pvt. Ltd is an experienced and reliable company having provided such services to plenty of excited travelers like you.
In the tour, you will fly from Tribhuwan International Airport which is located in Kathmandu. The helicopter takes you to Lukla Airport for refueling. Lukla Airport is known as one of the thrilling airports in the world. After refueling, the trip is to Kalapatthar which is the actual place to see the Mt. Everest (8,848M) and famous other mountains such as Mt. Nuptse (7,864M), Mt. Pumori (7,156M), Mt. Cho Oyu (8,153M), Mt. Lhotse (8,513M) along with hundreds of impressive peaks towering tall in entire Everest region. You will definitely be taken to Everest Base Camp from where you can see the Khumbu Glacier but not the Everest. The maximum elevation is 5545 m at Kalapatthar while the altitude of the EBC is 5364 m.
The cost of Everest base Camp Heli Tour
The cost of one round Everest Base Camp Heli Tour is only $600 per person. The Helicopter can carry a maximum of 6 passengers at a time which takes about 4 to 5 hours. Vehicles Rental Nepal Pvt. Ltd. provides an amazing trip to the Everest in a lesser time where you don't waste your time and money but get the pleasure of seeing the highest mountain right next to you.
Why Vehicles Rental Nepal!
We provide you with numerous advantages such as
Transportation from and to your hotel by our car.
You will be free of Airport taxes.
Breakfasts at Luxury Everest View Hotel.
EBC Helicopter Flight Route:
Kathmandu airport – above Bhaktapur Durbar Square – View Point of Nagarkot hill- Jiri- Lukla Airport-Namche Bazar- Syangboche Airport- Tengboche Monastery – Pheriche –Goreksheep – Kalapatthar View Point (5545m) – Everest Base Camp (5364m) – Breakfasts at Hotel Everest View – Lukla Airport – Kathmandu return
Outline Itinerary
5:30 AM - Wake up and transfer to Kathmandu domestic airport.
6:00 AM -Arrive airport and check-in.
6:30 AM - Be ready for the flight and flight starts.
6:30 AM - Flight starts and takes approximately 45 minutes to reach Lukla airport for fueling.
7:15 AM - to Kala Patthar and then to the EBC where you will also have breakfast.
10:30 AM - flight time to Kathmandu – 50 minutes to reach Kathmandu.
11:30 AM - Once you land at Domestic terminal in Kathmandu you will be taken to your respective hotels.
Things to do in Advance
If you are planning to do the trip, you should pay some amount of money in advance so that we can confirm your booking. Not to mention, you should also provide the information about the date and number of passengers traveling with you and please don't forget to send a copy of the passports to Vehicles Rental Nepal Pvt. Ltd. You can do the tour all the time throughout the year if the weather is good.
Clothing and Preparation for flight
The Everest remains sunny, most of the time but if it's cloudy, it's freezing cold. You will need to prepare the following things on the flight such as Windproof Jacket, Trouser and a sun hat, Sun lotion and sunglasses, A bottle of water and toilet paper, Camera and mobile phone, and Your passport or a copy of your passport.