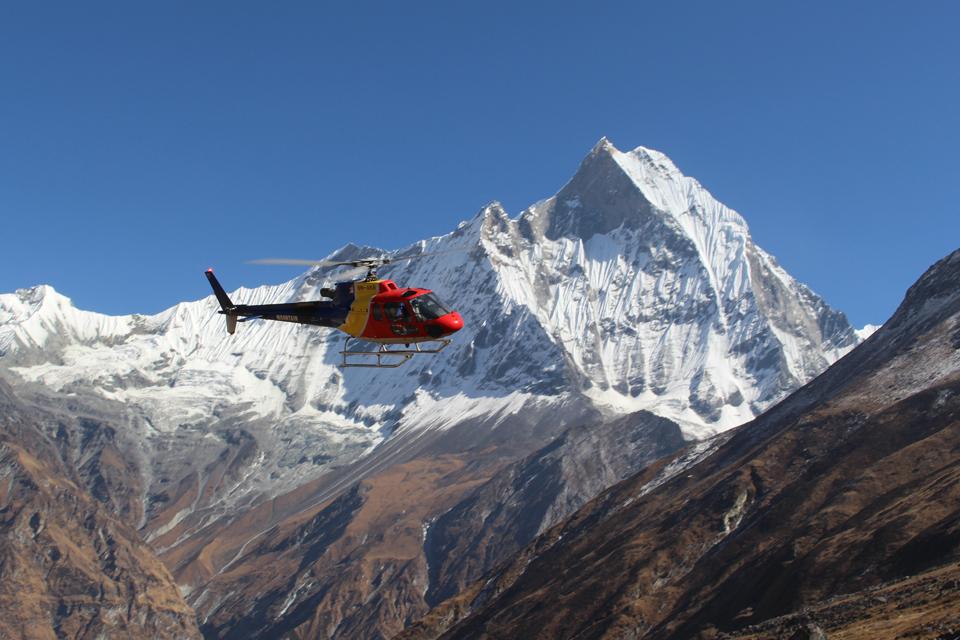 Do you like to see the Annapurna Base Camp but still want to escape the traffic, rough highways and people? Then we would suggest you do the Annapurna Heli Tour. It's a day package which starts from Tribhuwan International Airport, Kathmandu and flies all the way to the western region of Nepal along with the Himalayan range in the north and comes back to Kathmandu the same day. This short tour gives you a wonderful opportunity to see famous mountains of the world like Machchhapuchhre (Mt. Fishtail), Annapurna I and II and Dhaulagiri mountains and reach the base camp of Mt. Annapurna. You will have the pleasure of flying over diverse landscapes and beautiful villages and reach the base camp. Once at the base camp, we stop for over fifteen minutes to have local tea and enjoy the panorama. This trip ends when we get back to Kathmandu by helicopter on the same day. Vehicles Rental Nepal Pvt. Ltd provides you with this wonderful opportunity.

This two-hour flight schedule includes:
Kathmandu to ABC flight
15 minutes' tea break at the base camp
Flight back from ABC to Kathmandu.
The cost of ABC Heli Tour
This amazing tour comes at a price of only $ 500. The helicopter can carry only 6 passengers at a time for the flight which takes about an hour and forty-five minutes. Vehicles Rental Nepal Pvt. Ltd provides an amazing trip to the ABC in a lesser time where you don't waste your time and money but get the pleasure of seeing the highest mountain right next to you.

Why Vehicles Rental Nepal!
We provide you with numerous advantages such as
Transports from and to your hotel by our car.
You will be free of Airport taxes.
Breakfasts at Luxury Everest View Hotel.
Things to do in Advance
If you are planning to do the trip, you should pay some amount of money in advance so that we can confirm your booking. Not to mention, you should also provide the information about the date and number of passengers traveling with you and please don't forget to send a copy of the passports to Vehicles Rental Nepal Pvt. Ltd. You can do the tour all the time throughout the year if the weather is good. You have the pleasure of canceling this trip 24 hours before the flight.

Clothing and Preparation for flight
The mountains remain sunny most of the time but if it's cloudy, it's freezing cold. You will need to prepare the following things on the flight:
Windproof Jacket.
Trouser and a sun hat.
Sun lotion and sunglasses.
A bottle of water and toilet paper.
Camera and mobile phone and
Your passport or a copy of your passport.
Important Note
Your safety is of our paramount concern while traveling with us. Your leader has the authority to amend or cancel any part of the itinerary if it is found necessary because of safety concerns. Every effort will be made to keep to the above itinerary; however, since this adventure traveling in remote mountainous regions, we cannot guarantee that we will not deviate from it. Weather conditions, health condition of a group member, unexpected natural disasters, etc., can all contribute to changes in the itinerary. The leader will try to ensure that the trip runs according to plan, but please be prepared to be flexible if required.